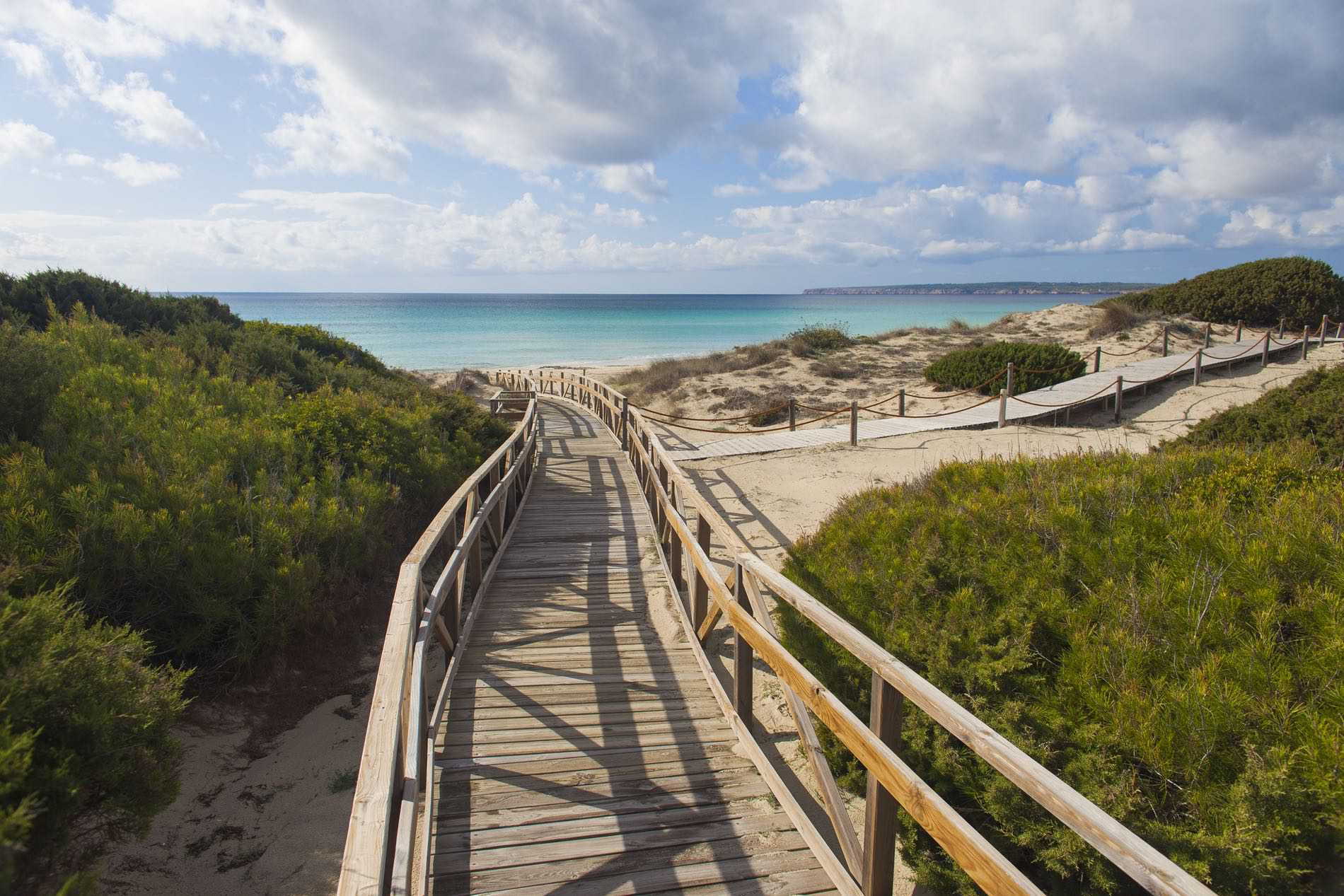 We are excited to bring you our second destination from our tour around the Mediterranean. Discover the places that inspire us and our designs.
Blessed with incredible beaches, crystal-clear waters and one of the most laid-back vibes in the Mediterranean, Formentera is an island of pure bliss.
Beaches with the whitest sand and waters the clearest and most crystalline you could ever hope for have marked out this island as one of the most idyllic destinations in the Balearics. Many believe that the beaches on Formentera are among the best in the world and when you get there, you will think so too. Off the beaten track and away from the main beaches, you can discover many deserted coves to steal away from any crowds.
Formentera is a great destination for when you just want to lie on a beach, eat fine food, drink good wine and sleep long languorous hours. It has attracted everyone from Bob Dylan and Jimi Hendrix to Madonna and Leonardo DiCaprio - all drawn by its incredible peacefulness.
WHAT WE'VE VISITED
Es Pujols is one of the most important tourist centres on the island, but the key to its success can probably be found in its magnificent Des Pujols beach, a wide sandy strip covering 690 metres of coastline backing on to the promenade.
Cala Saona is known as the jewel of the west coast of Formentera, being the only sandy beach to be found among the cliffs that prevail throughout the southwestern part of the island.
Migjorn is the name given to the south coast of Formentera, with a five-kilometre stretch of paradisiacal beaches. This is the longest beach on the island and is made up of various coves interspersed with rocky and sandy areas. Each of them has its own name and has several access points.
Ses Illetes declared one of the world's most beautiful beaches on more than one occasion, the Ses Illetes beach is probably the most representative feature of Formentera's spectacular coastline.
Llevant, the fame of Illetes may overshadow the other beaches that make up the Natural Park of Eivissa and Formentera, but the neighbouring Llevant beach is just as impressive.
Cavall d'en Borràs, the first beach you will find when you enter the Salinas de Eivissa and Formentera Natural Park is called Cavall d'en Borràs, a less popular place than the neighbouring Illetes beach but, like the latter, with a wild beauty of crystalline waters and fine white sand interspersed with Posidonia. 
Ses Platgetes, the north coast of Formentera, which extends beyond Punta Prima in the direction of La Mola, is known as the Tramuntana coast due to its north-facing orientation. And this area is home to a charming little-known place called Ses Platgetes.
La Mola Lighthouse is one of the most spectacular places on the whole island, making it a great tourist attraction. The lighthouse is located on the edge of a cliff 120 metres above sea level, on the plateau of La Mola, where the highest point on the island is also to be found: Sa Talaïassa, 192 metres above sea level.
Pilar de la Mola, a quiet, charming and friendly town. We recommend a visit to the church of El Pilar, built in the eighteenth century to serve the spiritual needs of this very remote community. Also, well worth a visit is the town's old mill "Molí Vell" and its museum. The Molí Vell has been declared a Site of Cultural Interest. It is open on Wednesdays, Fridays and Sundays from 5.00 pm to 8.00 pm, and admission is free.
Nor should you miss El Pilar de la Mola's renowned craft market, held between May and October on Wednesdays and Sundays from 4.30 pm until 10.30 pm. Here, you can find genuine works of art and traditional local craft items: baskets, espadrilles, jewellery, textiles and glass, ceramic and leather items, as well as paintings and other works by artists resident on Formentera. And there's always live music to add to the atmosphere.
WHERE WE ATE AND DRANK
Es Còdol Foradat, is located in the long and wild Migjorn beach, exactly at Km. 8.9. From 2020 it is under the management of Catalan star chef Nandu Jubany. It has a magnificent beachfront location and serves traditional dishes. The environment is informal and the atmosphere very pleasant. We recommend trying it both at lunch and dinner to enjoy the spectacle of nature: by day a crystal clear sea full of nuances, in the evening in the moonlight.
Casa Pacha Formentera, comprising of 14 spacious rooms and suites with pared back yet stylish interiors by Patricia Galdon Studio, Casa Pacha Formentera is set to be the ultimate barefoot bolt hole on one of Europe's most beautiful beaches. Encouraging a free-spirited yet intimate approach to hospitality, Casa Pacha Formentera is a 'home from home' that emphasises relaxed living and spontaneity.
Juan y Andrea, located on the beach of Ses Illetes, it is probably among the most chic and fashionable restaurants in Formentera. Opened about 30 years ago, when there was still no road and here we arrived only by sea, still today it is very frequented by those who live on the island aboard their boat; not by chance the tender service is one of the most requested.
Es Caló, the tables are set on an open-sided wooden structure on a beach of the same name, with clear views over the pretty cove and out to sea. For a delicious seafood lunch, in a relaxed and tranquil beach setting, this is the place to come.
Fonda Pepe, among Formentera's best known restaurants, is considered a true institution. Located in the pedestrian area of Sant Ferran, near the central square, it is cheap and very popular even after dinner for a beer with friends. In the 1960s it was the destination of many island hippies who loved to spend their evenings in front of this place.  
Kiosko 62, when exploring Playa de Migjorn be sure to stroll that little bit further to discover the most intimate vibrant atmosphere on the island at Kiosko 62. We love to go there for bar snacks, like tortilla, and backgammon in the sand.  Stay a little later and watch people gravitate from far and wide to enjoy sundown, listing to music and drinking cocktails!
Chezz Gerdi, a winding wooden path, suspended above the rocks of the Es Pujols shoreline, leads to Chezz Gerdi. It's secluded, but this vibrant hotspot makes an impact. The iconic pillar box-red campervan, topped with the island name in big bold letters, marks its spot: a fine photo opportunity and one of Formentera's most sought-after Instagram backdrops.
Flipper, Pink wall tiles come as a surprise on this neutrally clad island, and it's the charming decor choice, as well as the sprawling rooftop terrace, that sets Flipper apart from the rest. But the beach bar's reputation surpasses its use of colour… it's known for serving up some of the freshest seafood on Migjorn. And for its cocktail menu, of course, which is curated in-house. Relaxed without compromising on quality, it blends blissful Balearic influences with a touch of playfulness.
WHERE WE STAYED
We stayed at Talaya Formentera, a great set of apartments and studios within the nicest surroundings, and right next to the most beautiful clear blue sea! The apartments are right in front of the beach and set in a garden of palm trees, ficus, rosemary and savinas, creating a unique oasis to relax and undwind. 
WHEN TO GO
As the southernmost island of the archipelago, Formentera enjoys the mildest climate of all the Balearic Islands. Not surprisingly, the hottest season on Formentera is summer. From June to mid-September, the days are hot and sunny with very little rainfall. But even though the highs can sometimes reach 35C in July and August, a nice constant sea breeze (especially if you're out on a boat) keeps the air feeling fresh.