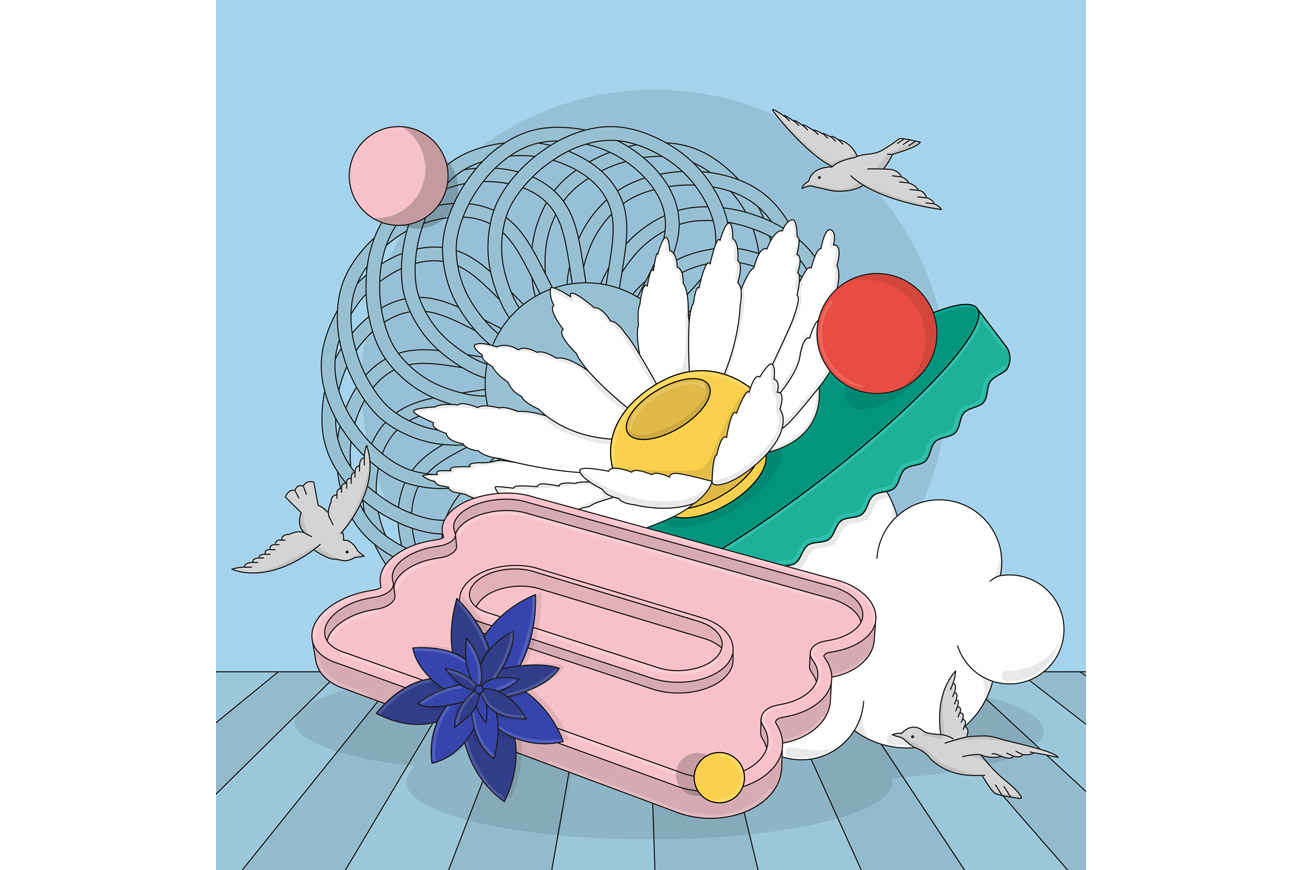 Mariano Pascual is one of our favourite visual artists, illustrator and designer. We invited him to share his unique vision of OCTAEVO through his creativity and are very proud to share the result; 3 artworks full of energy, originality and wit. 
Originally from Argentina and based in Barcelona, Mariano has made himself a name with his iconic and very unique style. His work is characterized by being bold, playful, ironic and interpreting shapes through vibrant colors that becomes patterns, textures and compositions. Mixing abstract and figurative elements with geometry and organic structures in a minimal and precise way, he creates scenes that escape reality through fantasy and mystery. His clients include Hermes, Pentagram NYC, DIE ZEIT and Huffington Post, to name just a few.
How would you define your artistic style?
I always find it hard to talk about my style, talking about yourself is never easy... I think my work takes references from different styles and movements, always trying to be ironic, with a double meaning and at the same time looking for mystery, surprise. My work is characterized by a defined style and soft colors, always working digitally with surfaces and layers.
What is your creative approach when facing new projects?
I always try to focus my attention on the unexplored, the unknown and on difficulties that represent a challenge for me. When a new project doesn't appear to be challenging, I quickly lose interest. So, within my process, I always seek to face the unknown in order to learn something different and to add new knowledge to my abilities.
Where do you get your inspiration from?
That is something that I am getting asked many times and that even I ask myself very often... in any case I am never sure what to answer. I think that inspiration comes from many places and mixes, combines and evolves into something new that is born from all that amalgam of stimuli. Daily life inspires me very much and I can find inspiration anywhere. I am inspired by my friends, music, old books, my dreams ...
What is the importance of experimentation and playfulness in your life, and how do you integrate it into your work? 
I think experimentation is a key element. It always breaks new ground and you never know where it will take you. Both in my personal life and in my work, fun and experimentation are essential. Since I can remember I have had a lot of curiosity. It all comes very naturally to me and I just let it flow.
What unique opportunities have you experienced as a result of choosing to become an illustrator?
Each opportunity is unique, especially doing non commercial projects or working for industries that are new to me. As an illustrator, I have had the opportunity to adapt my style to different audiences, media and fields that sometimes can be very disparate.
How do you balance work and personal life?
I try to have a schedule, to have a routine, although sometimes I find it difficult to stick to it... especially when I have a large commission or I am feeling inspired. That's when my personal life takes a back seat and I spend most of my time working. However it doesn't weigh me down as I enjoy what I do. My personal life is my work life and vice versa, both make me happy and the borders always end up blurring.
In what ways did the Mediterranean life shape your ideas about art and design?
Mediterranean life must have influenced me in some powerful and indescribable way, although I may not have realized it. I am Argentinian but my entire career has played out in Spain. I therefore have no record of how my artistic vision would have evolved without a Mediterranean influence. In the Mediterranean I have found an inspiring place where I feel comfortable, in addition to a rhythm that is consistent with mine.
Your best kept Mediterranean secret?
A night in Saint Tropez of which I will not give more details...
The thing you can't live without while working on a project: 
I cannot live without music, it is indispensable in my life… it has been with me since always and it is a good catalyst when working. It gives me a lot of strength. As an Argentinian I also drink mate or coffee with milk and I have always my notebook close to me to make sketches or to take notes.
Currently obsessed with:
After a trip to Egypt I have become quite obsessed with that ancient civilization and lately I have researched a lot on the subject. It seems to be an inexhaustible subject.
Three greatest influences:
My father, Michelangelo & Magritte.  
Favorite space to work:
I really enjoy working at home, however I keep changing and I don't have a fixed place… although recently I found a place that I intend to turn into my studio and to be a little less nomadic. I hope it will gradually become my favourite space where I will spend a lot of time.
If you weren't an illustrator, you'd be: 
Most likely something in connection with the visual arts. At times I feel that I couldn't have dedicated myself to something else... Also something related to the kitchen. To be in contact with food and ingredients relaxes me a lot. The kitchen gives me the feeling of freedom that I don't find in many places.
Current music album on repeat:
I'm pretty obsessed with Letrux and her album 'En noite de Climao'. She is a Brazilian singer that I just discovered in quarantine. Her powerful voice goes under my skin and her stage presence is impressive.
Biggest creative risk you've taken in your career:
I think the most importante project is the one that I just finished, which was a set design for an international brand. I have collaborated with a team and it was the first time that my illustrations became materialized on a large scale. At the beginning the magnitude of the project and my little experience gave me vertigo but in the end the result really surprised me.
Website: marianopascual.me
Instagram: mariano_pascual